⚙️How do I order printed documents?
The Citipo printing platform for campaigners works as follows:
Step 1 : Choose the kind of document you need to print
You can choose between official electoral print products (posters, poster banners, ballot papers etc) or usual printed campaign documents (leaflets, booklets, door hangers, posters, letters, postcards etc).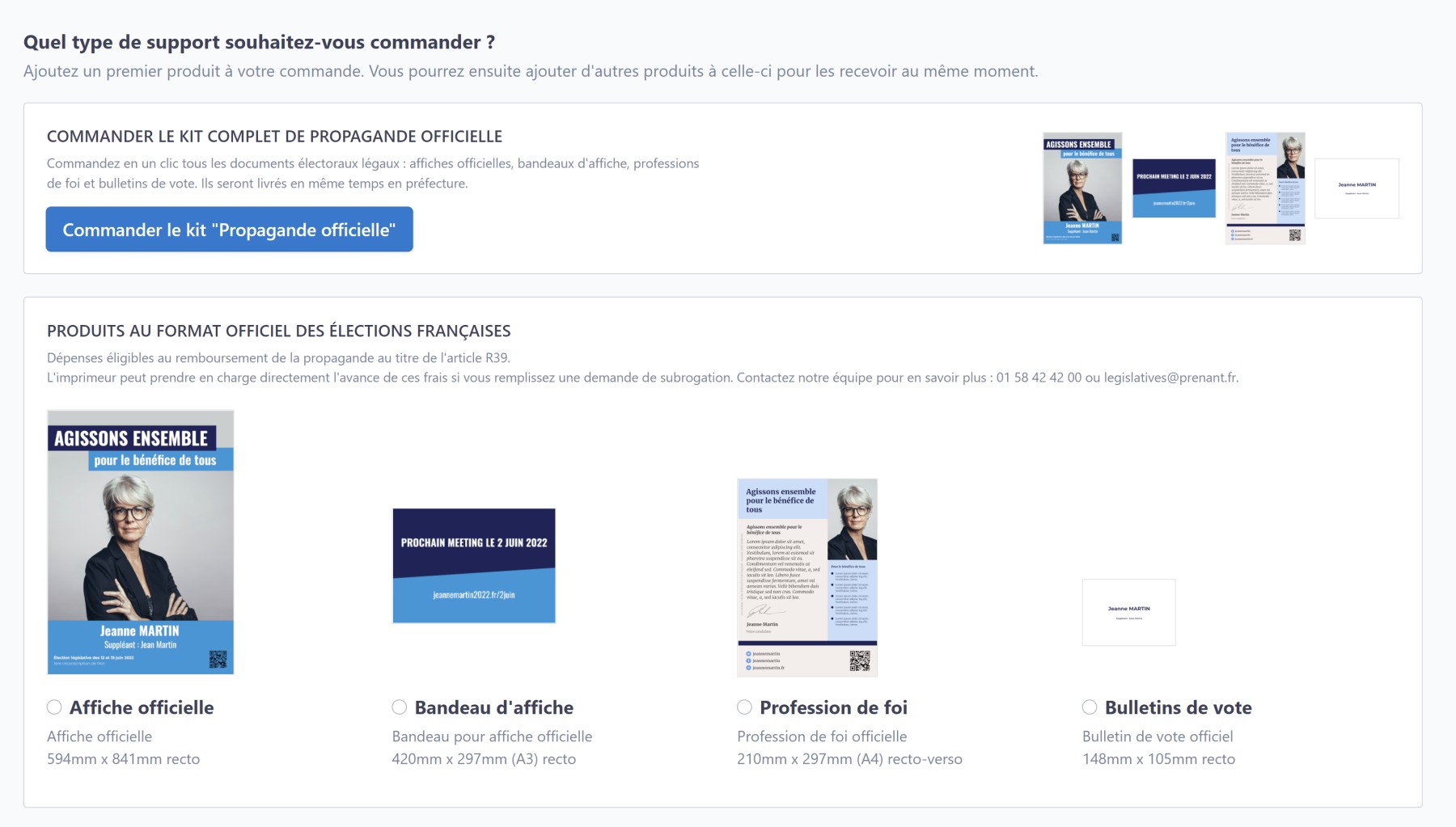 Screenshot of electoral print ordering platform
Step 2: Upload your file
You upload the visual files provided by your graphic designers directly onto the platform in .pdf format.
You will then receive a "ready for print" file for approval, to ensure that the document to be sent to print complies with your expectations.
Step 3: Online payment
You pay the order directly by bank transfer through the payment agent Mollie. Once the payment is received, we automatically transfer "Ready for print" files to our partner printer Groupe Prenant-La Galiote for printing.
Step 4: Delivery options
Depending on your project, you can choose to have printed documents delivered to your personal address, to the address of local team leaders or to a logistic platform.
All orders placed on Citipo are sent to our partner printer, the Prenant - La Galiote group, and benefit from a preferential rate. Delivery costs per parcel or pallet are to be expected. These costs vary according to the delivery location and the total weight of the order.

🚚How can I track the status of my order?
The status of your delivery is updated in real time on the Citipo print platform. A support service by email and telephone reserved for Citipo users is also available at all times to assist you with your orders.
Contact us : contact@citipo.com
Nous vous proposons une session de support réservée aux équipes des députés de la majorité, pour vous aider dans la prise en main de vos sites Citipo.
Cette session aura lieu le Lundi 7 novembre à 17h00 sur Zoom